---
Tilmor is bringing back the art of cultivation with a vision for versatility and growth. The Tilmor 520 tractor will drive success for diversified farming operations and can be adapted to a multitude of crops and cultural practices. The Tilmor allows repeatable, predictable, profitable, and scale-able organic and sustainable practices to reduce manual labor and costly downtime.


Contact us for any additional information.
---
---
Options and Accessories
All Options and Accessories are easily installed by the customer.
The Suspension Seat (AT-9054-99) is the only factory installed option.
Back to Top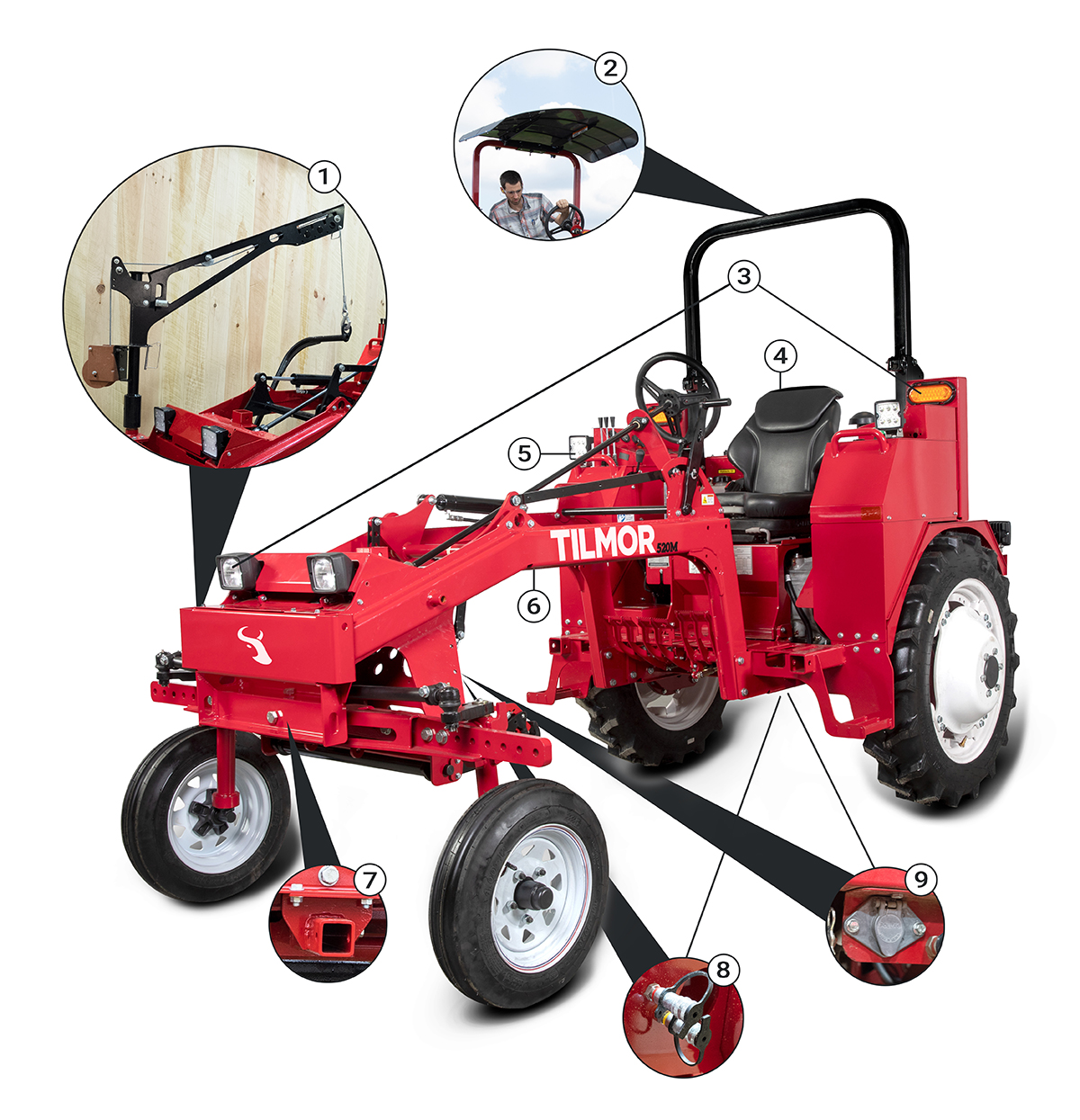 | &nbsp | Product | Part # | Description |
| --- | --- | --- | --- |
| 1 | Implement Hoist | AT-9061 | Lift and install implements onto front 3-pt. hitch of Tilmor tractor with ease. Includes pivot attachment for tractor. Load limit 450lbs. |
| 2 | Tuff Top Canopy | AT-9059 | Fold down canopy that bolts on ROPS. |
| 3 | Road Package | AT-9077 | Includes amber and red marker/turn signal lights, two front head lights, horn, and slow moving vehicle (SMV) sign. |
| 4 | Suspension Seat | AT-9054-99 | Suspension Seat with seat belt. - Factory Install |
| 5 | Work Lights | AT-9047 | Includes four LED 4" x 4" wide flood lights. Two forward and two rear facing lights located on the the tractor fender. |
| 6 | Cultivation Lights | AT-9046 | Includes two 13" long LED lights mounted flush on each side of the front frame providing optimum working light for belly mounted implements. |
| 7 | Front Receiver Hitch | AT-9049 | Bolt on kit for a front mount receiver hitch for 2" x 2" square tubing |
| 8 | Auxiliary Hydraulics | AT-9086 | Add front and rear auxiliary hydraulic couplers to the tractor. Includes standard, female, 1/4" Quick-Connect couplers. |
| 9 | Aux Power - Front, Rear | AT-9088, AT-9089 | Add a 4-pin, 40amp, auxiliary electric outlet to the front of the tractor |
Simplicity
By offering simple, mechanized solutions for cultivation, planting, and crop care, we at Tilmor support sustainable agriculture and the profitability of your farms for today and into the future. The tools and power units are simple because of our unwavering pursuit to produce products that balance ease of use, ease of maintenance, reliability, and affordability to allow access by growers at many different scales and ranges of diversification.
Design
Creativity, productivity, and common sense are designed into the DNA of the Tilmor brand and our 520 series tractors. As many of the developers, engineers, and testing personnel are farmers themselves and our equipment must pass through the critical eyes and rigorous use by farmers themselves. Our tractors come standard with a mechanical transmission, ability to attach two toolbars with our quick latch design, adjustable tire spacing, two toolboxes, usb, 2" receivers, and the ability to add work lights, auxiliary power, auxiliary hydraulics, canopy, and suspension seat.
Safety
The safety of you and your employees is important to us which is why our tractors come standard with certified ROPS, park brake, operator presence start circuit, shields and the optional lighting kit for roads.
Serving you from Northeast Ohio
The Tilmor 520 Series tractors are designed, tested, and assembled by Tilmor employees right here in Northeast Ohio. Our team is available to provide you the customer support you need to answer questions, troubleshoot challenges, and much more. Let us help you make your farms more efficient and productive as you seek to grow your business and serve your community in a profitable way.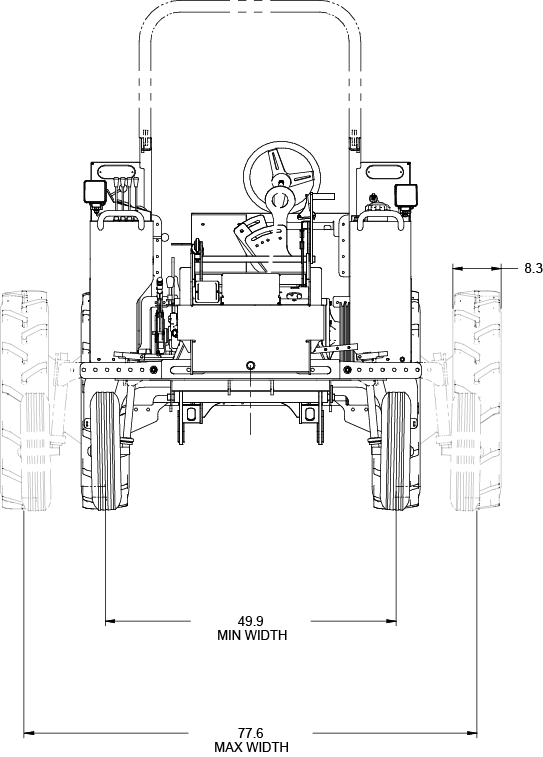 Safety
Standard Fold down Roll bar and Seat Belt

Operator Safety Interlock System
Convenience
Implement depth control for accuracy and easy depth setting

Conveniently located 2" receiver tubes for easily modifying and personalizing your tractor

USB port for charging your devices
Other Standard Features
Toolbox by operator platform

Hydraulic lift/operation of mid and rear implements

Front and Rear Wheel adjustments from 50" on center to 78" on center in 2" increments (per side)

Synchronized manual transmission

Automotive-style disk brakes on rear wheels. Separate brake pedals for sharp right or left turns

Automotive-style sealed electrical system

12V, 550CCA Battery + 60amp alternator

Mechanical fuel pump


Premium Features
Hoist/Lift for easy removal and installation of mid mount implements

Cultivation Lights for optimal visibility and control when operating in darker conditions

Suspension Seat
* Specifications subject to change without notice
For Tractor Owners
Name
Tilmor, Tractor 520M Gas
Tilmor, Tractor 520Y DSL
Cultivation Lights
Work Lights
Rear BPTO
Front Receiver Hitch
Suspension Seat
Tuff Top Canopy
Road Package
Auxiliary Hydraulics
Aux Power - Front
Aux Power - Rear
Harness, 12V AUX ACC
Implement Hoist Kit
520Y Maintenance Kit
Hitch Mount Cargo Box
Image
Tilmor Part Number
46-11100
46-11105
AT-9046
AT-9047
AT-9048
AT-9049
AT-9054-99
AT-9059
AT-9077
AT-9086
AT-9088
AT-9089
32-0217
KIT-1050
AT-9094
AA-9089
GTIN
00850002085402
Manufacturer Part Number
N/A
N/A
N/A
N/A
N/A
N/A
N/A
N/A
N/A
N/A
N/A
N/A
N/A
N/A
N/A
N/A
Weight
2500.0000

lbs.

2700.0000

lbs.

0.1000

lbs.

0.1000

lbs.

0.1000

lbs.

9.4000

lbs.

0.1000

lbs.

39.0000

lbs.

0.1000

lbs.

0.1000

lbs.

0.1000

lbs.

0.1000

lbs.

0.8000

lbs.

50

lbs.

5.5500

lbs.

55.0000

lbs.

California Residents
WARNING: Click here for more information on Proposition 65
Warranty
Limited 2 year warranty. Click here for more information.
---