introducing the ultimate row crop tractor
the tilmor tractor
Our Objective is to design and produce an affordable, yet quality small agricultural tractor that is very versatile and able to do many different tasks and operations in farming. Our Purpose is to improve agricultural productivity throughout the world by offering simple mechanization solutions. Beneficiaries from this improved productivity would include the following farming markets: Developing World, Organic, Market/Truck Patch and Hobby Farming.
This mechanized product will provide a basic tractor with a multi-tool bar and power belt drive that can utilize a variety of implements, which are either powered or non-powered.
Estimated Availability: 2019
tilmor & allis chalmers g
The Allis Chalmers G has been the go-to row crop tractor of small growers for over a half century. The G has a simple mechanical system for easy operation and excellent visibility for cultivation. However, finding parts and repairing these older tractors is becoming extremely difficult. Small growers have not had good options for a tractor that provides them the visibility, versatility, and simple mechanical system that the Allis G was so well known for – until now.
The Tilmor tractor was designed with the small farmer in mind. It has all of the same benefits that the Allis G has provided its owners for so long, and more. By listening to these long-time farmers, Tilmor has kept all the benefits of the Allis G and created a 21st century tractor for the small farmer.
Tilmor Tractor
*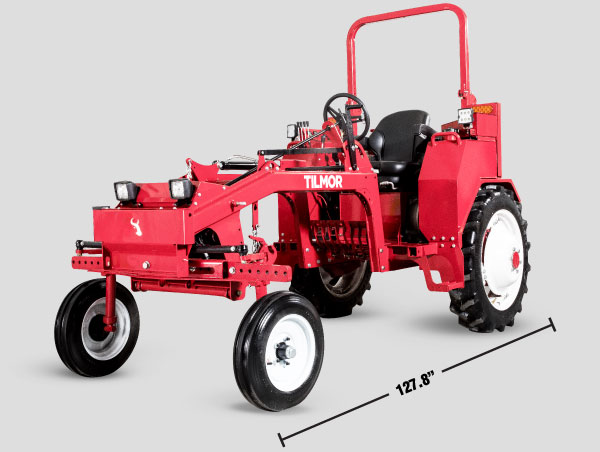 Allis Chalmers G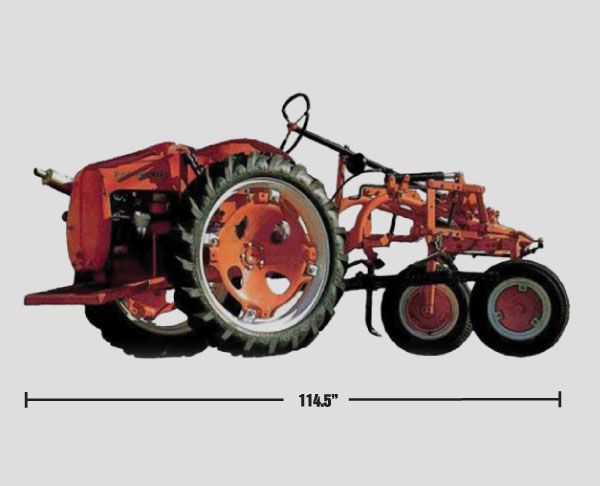 Horsepower
23hp (B&S Gas)
23hp (Kubota Diesel)
10hp (Gasoline)
Ground Speed
.5 - 13 mph (.8 - 20.9 kph)
1.6 - 7.0 mph (2.5 - 11.2 kph)
Ground Clearance (center working area)
18 inches (45.7 cm)
17 inches (43.2 cm)
Tractor Weight
2500 pounds (1134kg) - Gas
2700 pounds (1225 kg) - Diesel
1285 pounds (583 kg)
Brakes
Hydraulic
Mechanical (External expanding)
Wheel Adjustments (Center-to-Center)
50 - 78 inches (127 - 198 cm)
36 - 64 inches (91 - 163 cm)
Drive System
8-speed with reverse (Manual)
Synchronized 4-speed transmission with 2-speed high/low. 8 forward and 2 reverse
3-speed with reverse
(Manual)
Non-synchronized with 3 forward and 1 reverse
+ creeper/crawler gear
tilmor tractor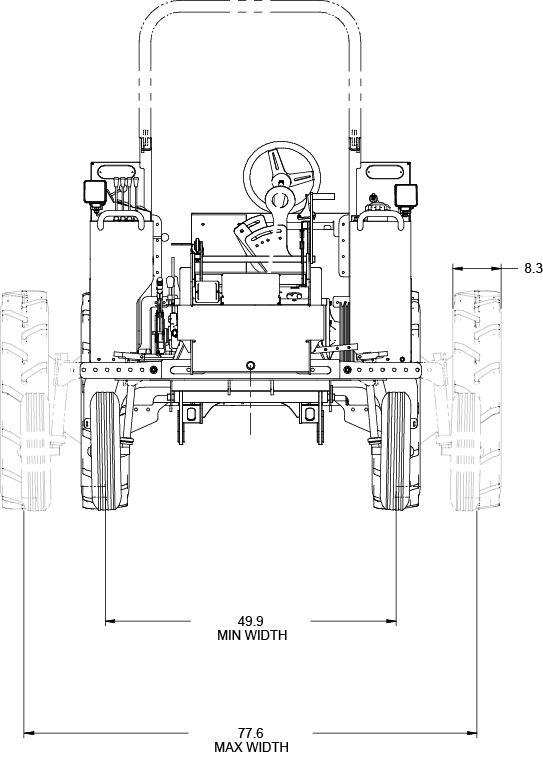 Safety
Standard Fold down Roll bar and Seat Belt

Operator Safety Interlock System
Convenience
Implement depth control for accuracy and easy depth setting

Conveniently located 2" receiver tubes for easily modifying and personalizing your tractor

USB port for charging your devices
Other Standard Features
Toolbox on front of tractor

Hydraulic lift/operation of mid and rear implements

Front and Rear Wheel adjustments from 50" on center to 78" on center in 2" increments (per side)

Synchronized manual transmission

Automotive-style disk brakes on rear wheels. Separate brake pedals for sharp right or left turns

Automotive-style sealed electrical system

12V, 550CCA Battery
Premium Features
Toolbox by operator platform

Hoist/Lift for easy removal and installation of mid mount implements

Belt-driven PTO for powered implements such as mowers, tillers, threshers, and more

Cultivation Lights for optimal visibility and control when operating in darker conditions

Suspension Seat
* Specifications subject to change without notice